Infralux s.r.o. is a subsidiary of the Slovak company SPECTRUM a.s. and Infrastruktur SK a.s., which is a member of the Swiss group Cime Equity Partners which focuses on investment activities in the sector of infrastructure.
Infralux s.r.o. is focused primarily on the reconstruction and modernization of public lighting using LED technology that ensures an ideal combination of cooperation with leading manufacturers of public lighting along with investors and banks.
We special in complex solutions, which enable self-governing cities to acquire not only high end lighting solutions but also acceptable financing options, which do not strain budgets.
Our main supplier for lights is Tungsram-Schréder Lighting Equipment Co., Ltd., which is the main producer of lighting in Hungary with over 1.5 million sold units since it originated in 1983. The company with 91 employees, based in Piliszentivan near Budapest, develops and produces functional and decorative lighting for urban and public areas. The company owns a modern factory, a large warehouse, and a 7.800m² research center.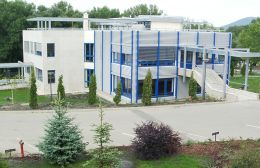 The company was founded on the 16th of June 1983, by famous Belgian company Schréder (since 1906) and two Hungarian businesses; Tungsram and Industrial Trust. In 1990, the new American owner of Tungsram (GE) sold its shares. Hungarian Aluminum did the same in 1997, meaning that as of the time of writing the company is fully owned by Schréder and a few English private shareholders. The name "Tungsram-Schréder" was kept despite the separation from Tungsram, and the company remained a key Hungarian producer through its cooperation with over 200 Hungarian suppliers from which it buys raw materials and spare parts.
In 1999 the company became the largest shareholder of "Kandeláber", and merged it into their structure in 2004 through which they improved their product range with the famous Kandeláber decorative lamps. The current portfolio of Tungsram-Schréder includes a wide range of standard solutions, but also traditional and modern models, as well as street furniture. The long lasting quality and financial solutions are the cornerstone for a strong relationship with  its clients who's satisfaction and trust was a key in the company's growth.
The advanced quality is certified by the ISO and the CE which test the product in a high tech lab. The lighting sources are "sealsafe" meaning they are hermetically sealed with the opto-insulation protected from dust and water, which reduces the need for maintenance. They are mechanically solid and durable, as well as financially and energetically economical.
Other than its business aspects, Tungsram-Schréder follows a vision of beautifying cities and urban areas through its engineers and designers.
As its main reference Tungsram-Schréder made a significant contribution to key areas of Budapest including; Andrassy street, the opera, the central bridges, the I district, and many others. In 2009 Tungsram-Schréder made groundbreaking work in the Hungarian LED lighting industry through its handling of the bridge of peace, placing itself at the forefront of the national market.